Alternative Energy Industry Newsletter - May 2012
AltEnergyMag Industry Newsletter - May 2012
Going Green in Indian Country: Two Sides of the Buffalo Nickel, Asia Report: Solar Dumping Announcement Set for May 17 , Apricus Drainback Solar Hot Water Systems Receive IAPMO Certification,
Alternative Energy Industry Newsletter - May 2012
---

Rolls has been producing premium batteries specifically designed for the renewable energy market since 1984. That's why those who can't afford to go without power know they can't afford to trust anyone else.
www.rollsbattery.com
>>> Articles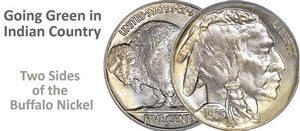 Going Green in Indian Country: Two Sides of the Buffalo Nickel
05/11/12, Ryan Dreveskracht , Galanda Broadman PLLC
Hopefully both sides of the coin – cultural property protection in the face of any callous non-Indian energy development, and streamlined tribal energy development for sake of tribal self-determination – can be realized by the revised S. 1684. The protection of Indian Country, both in the long and short term, quite literally depends on it.
Solar Power Purchase Agreements (PPA)
05/11/12, Scott Wiater, President, Standard Solar
PPAs are best for organizations that own their own buildings or homes. Or plan to occupy their space for an extended period of time. Also, a property owner who has a large open property or rooftop space (such as a warehouse or distribution center) may also enter into a PPA in connection with a rooftop or property lease as a means to generate not only renewable energy, but also revenue from energy sales to the local utility.
Solar Project Insurance
05/11/12, David A Schroeder, Assurant Solar Group
The inability of some solar project developers to secure the right coverage coupled with concerns about the long-term viability of equipment manufacturers has created fear and uncertainty in the marketplace, preventing some investors from financing projects.
Case Study: William G. Mennen Sports Arena
05/11/12, Contributed by, Tioga Energy
Tioga helped facilitate a first-of-its kind financing program ("the Morris Model") in which taxable bonds were issued to finance the solar program
Woody Biomass: An Emerging Bio-Energy
05/11/12, Imogen Reed
The WBUGP provides financial support to projects ( up to a maximum of $250,000) that responsibly use woody biomass to produce energy. It also supports projects that seek to remove economic and market barriers that restrict the use of woody biomass as a source of renewable bio-energy.
Special Thanks to Schott Solar for sponsoring our eMagazine
Read More Articles in the Current eMagazine
---

Schott Solar - The most secure investments are the proven ones. With more than 50 years of experience in solar technology, SCHOTT Solar combines expert knowledge in receiver technology for solar power plants with parabolic through technology and in photovoltaics.
>>> Hot Story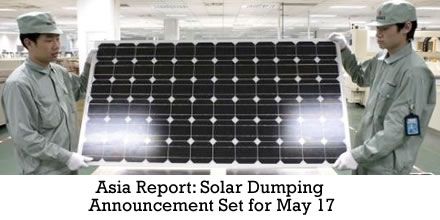 Seven months after a trade investigation was launched, American solar companies and Chinese solar manufacturers will finally get a clear picture of the challenges ahead.
SolarWorld's American operation led the filing of the complaint in October, making the case that Chinese manufacturers were getting an unfair level of subsidies from their government and they were then illegally dumping those products into the American market. The first phase of the ruling came down in March, and in that the Department of Commerce found an illegal level of subsidies. However, it preliminarily set the tariffs at between 2.9 and 4.73 percent.
A determination on the second of the two tariffs is set to be made on May 16 and announced on May 17. The history of international trade disputes suggests that the anti-dumping tariff, if one is set, is generally higher than the countervailing duty that measures the level of subsidies.
---

Ireland is the most successful EU economy in attracting export - platform foreign direct investment. After a very successful launch in New York, 'Opportunity Ireland' will now be hosting monthly meetings with companies interested in considering Ireland for business expansion development, funding and co venture opportunities. Email Us for details.

>>> Featured Company
Schletter Inc

Schletter® Solar Mounting Systems offers an adaptable product approach to fulfilling our customer's requirements. This means that whether a custom designed system or a standard mounting feature is needed, Schletter has the capability to meet any job. Domestically designed and manufactured in Tucson, Arizona, Schletter has a proven history—encompassing more than 40 years. Schletter is an industry leader in innovation as well as a European market leader in the solar mounting industry.
>>> Upcoming Sponsored Events
>>> Self Serve Marketing Features
Publish Your Story at AltEnergyMag
The process is very simple. Just email the article (news@altenergymag.com) along with any diagrams, photos etc. that you wish to have included. Length is not restricted. We do all the formatting and title graphics etc. and then let you preview the finished product before it goes live. Biographies and company links can also be included.

Please bear in mind that we seek educational articles focusing on the technologies and benefits to readers rather than simple product cut sheets and promotional material.
Publish Your News
Just copy and paste news stories
Free Service
Google News Source
Free Company Directory Listing
Click Here to get started
Self Marketing Program
Enhanced Company Listings, Hot Product Listings, Enhanced News Publication Services, Special Event News Reports, Discounts and Special Offers
Send eMail to sales@altenergymag.com for details
---
Tell your friends about this newsletter. Keep up to date with the Alternative Energy Industry and all the new products it involves.
Please help us thank our sponsors and keep this resource free by visiting their websites and telling them you saw their ads at altenergymag.com.
Many thanks for your continuing support.
Bob Hetherington bobh@altenergymag.com
You are subscribed to our Newsletters as [email]
We have many options for email subscriptions. This will insure that you receive content specific information in a timely manner. Please click the "Manage your subscription" link in the footer of this message. Then click "View my profile" to select the content you wish to receive. This information can be updated at any time. Our goal is to provide the information you want when you want it.
We look forward to staying connected.
Other Alternative Energy Resources